Project Overview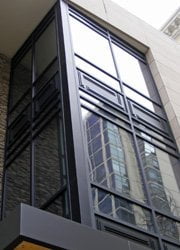 A private homeowner and architect selected our project management team to create a contemporary home and architectural showpiece on Chicago's Gold Coast. The resulting home is a four story masterpiece of exterior and interior glass that showcases the client's sculptures, an interior and exterior courtyard and the thriving neighborhood.
For us, the home shows our full range of architectural glass capabilities including multi story windows, ornamental metalwork, oversized glass, zero sightline glass, complex interior and exterior glass railing systems and the full gamut of decorative glass. All of it was designed, fabricated and then installed in challenging urban site.
Call us and we'll be glad to show you how we can help you with your architectural glass needs that you or your client will enjoy for decades to come.
Goals & Challenges
The private residence posed a series of challenges for our team generally revolving around creating the ultimate urban contemporary home.
For a home in which the glass is the architectural focal point, every detail has to be meticulously designed and executed. This required our full project team capabilities including on and off site oversight, CAD shop drawing preparation, mockups and management of the entire submittal process.
Once on site, the project required our heavy lift capabilities as well as our full complement of craftsmen.
Our Results
Our team has created another masterpiece. Each glass element showcases our craftsmanship, attention to detail and vision. Together, the project shows our ability to deliver a major project flawlessly.
If you have a project that requires the attention to detail of a true artist, contact us today!