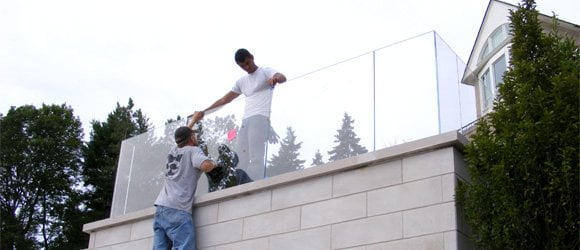 Project Overview
Now that Spring is here, we were asked to create a series of glass railings for a private residence on the North Shore. The project consisted of glass railings around a pool and overlooking Lake Michigan.
It is one example of countless exterior glass wall systems we engineer, fabricate and install throughout the Chicago Metropolitan area. In this case, we set an aluminum shoe and then used a dry clamp system to place the glass inside the shoe. This allows the glass to safely preform its railing function and not have any hardware or obstructions blocking the wonderful views of Lake Michigan.
The glass is ½" Starphire Low Iron Glass and each piece is meticulously sized, cut and polished so that the entire railing reflects its precision craftsmanship. A variety of hardware, glass colors and railings are offered but in this case, we really liked the elegant minimal approach.
Our glaziers were lucky. On this day, they enjoyed the sunshine and mild winds off of beautiful Lake Michigan.
Our Results
Due to GlassWorks attention to detail, expertise and reputation, we are Chicagoland's leading exterior glass provider.
If you have a project, small or large, with a demanding schedule and the need for outstanding architectural glass, contact us today!