Project Overview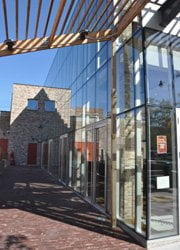 City Winery is Chicago's newest music venue, restaurant and bar and only fully operational winery. It is located in the heart of Chicago's thriving restaurant district at 1200 West Randolph Street. The owner, architect and general contractor's challenge was to transform a nineteenth century refrigerated food warehouse into Chicago's newest and most exciting venue.
GlassWorks was selected as City Winery's glazier to engineer, fabricate and install all the glass elements in this facility. Key elements included a three story glass curtain-wall that welcomes clients into the restaurant and venue as well as interior glass that divides the audience area from the working winery. Additionally, we added exterior windows that transformed an existing building while respecting its brick and timber construction.
Call us and arrange for a visit to City Winery today so that we can show you how your project can benefit from our expertise. Be it new construction or remodeling, City Winery is an outstanding example of GlassWorks expertise.
Goals & Challenges
There were two principal unique challenges to City Winery for GlassWorks.
The first was adding exterior and interior glass that showcased the winery and created an open airy atmosphere while respecting the existing building's beautiful brick and timber construction. We believe we accomplished that with our architectural level attention to detail.
City Winery had a firm grand opening date. We worked weekends and evenings to accomplish our client's needs in a confined urban site.
Our Results
City Winery opened on time to outstanding reviews and a VIP Reception including the Mayor of Chicago. Our client recommends us highly for our attention to detail and speed of execution and the building's architecture will benefit the West Loop for years to come.
If you have a project with a demanding schedule and the need for outstanding architectural glass, contact us today!