Project Overview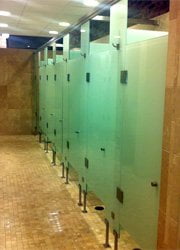 Chicago Athletic Clubs has a rich tradition of transforming buildings into highly successful health clubs throughout Chicago and Evanston. The owner's challenge was to transform the existing shower and toilet areas to provide a contemporary and elegant look.
GlassWorks was selected first at Lincoln Square Athletic Club and then other Chicago Athletic Clubs and finally the Lincoln Park Athletic Club's to engineer, fabricate and install all the of their shower and toilet enclosures. Key elements included designing and custom fabricating the stainless steel hardware and heat strengthened and laminated glass. As part of our scope, we provided material selection and advice, full shop drawings, fabrication and installation – in many cases overnight to accommodate the health club schedule.
Call us and arrange for a presentation of the products today so that we can show you how your project can benefit from our expertise. Be it new construction or remodeling, GlassWorks relationship with Chicago Athetic Clubs is an outstanding example of GlassWorks expertise.
Goals & Challenges
There were two principal unique challenges to the Chicago Athletic Clubs for GlassWorks.
The first was developing the appropriate products that met the needs of the most successful athletic club in the City of Chicago. We developed numerous samples and designs before settling on a glass and stainless steel combination that met the needs of the client and was fully functional.
Our second challenge was installing the shower and toilet partitions in an extremely popular and busy health club. We accomplished this by developing a detailed project management plan that allowed us to mobilizing our crews between 10:00pm and 4:00am and compress our construction schedule so that each locker room was under construction for less than a week.
Our Results
Chicago Athletic Clubs shower and toilet enclosures were transformed on time, on budget. We were particularly pleased with the feedback from the Athletic Club staff that most guests didn't even notice the construction but were completely wowed with the results.
Additionally, these are some of the most successful health clubs. Some of the enclosures are nearing the one year mark and we have had zero call backs for even routine adjustment.
If you have a project with a demanding schedule and the need for outstanding architectural glass, contact us today!