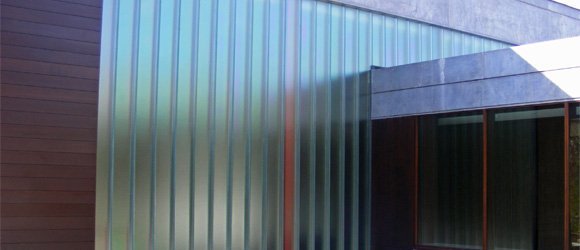 Project Overview
We were asked to create a glass wall for a private residence on the North Shore. The challenge was to create a highly attractive glass partition with excellent defused light and a high level of privacy.
Our senior project manager, client and architect selected channel glass for this element of the design. Channel glass is a translucent U-shaped glass. The surface finish and width can vary depending on client need. We love using it because it is recycled glass and has wonderful light absorbing and transfusing qualities.
Channel glass requires a deft hand in design, fabrication and installation. Our project managers and installers know that every detail must be carefully planned to create the architectural quality our clients expect and demand.
Our Results
Due to GlassWorks attention to detail, expertise and reputation, we are Chicagoland's leading channel glass provider. Note how the glass transfuses the light between exterior and interior and the attention to detail our craftsmen bring to this beautiful residence.
If you have a project, small or large, with a demanding schedule and the need for outstanding architectural glass, contact us today!