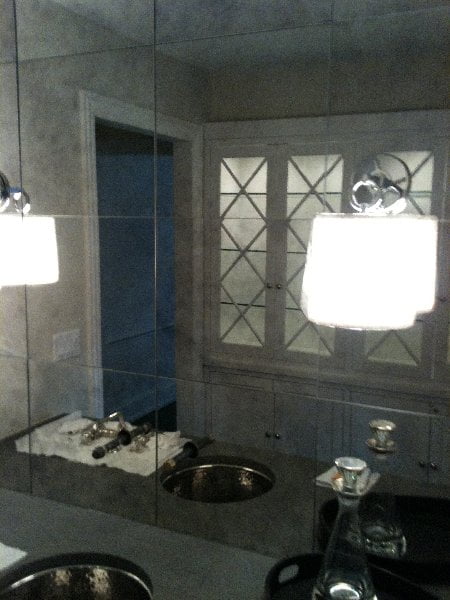 Antique Mirrors | Bathroom Vanity Mirrors | Mirrored Walls
For nearly 40 years, GlassWorks has been considered the foremost glass company serving customers throughout the Greater Chicago Metropolitan Area. We are recognized as one of the leading glass fabrication companies in the nation. Our company is renowned for its exquisite antique mirrors. The silvering process which is called mirror antiquing, provides each of our antique mirrors a unique and classical appearance. Identified as the fastest growing glass company in the Midwest, GlassWorks is the destination for residents when they are shopping for customized antique wall mirrors or decorative mirrors for their residences. Regardless of the style of antique mirror glass you need, GlassWorks has the talent and expertise to transform your dream antique mirror into a reality! We have been providing award-winning services to dedicated antique mirror customers since 1977. Each year, it isn't uncommon for us to serve approximately 4,000 clients! These are just some of the many excellent reasons Des Plaines residents prefer GlassWorks over the competition for all their decorative mirrors!
Des Plaines Antique Wall Mirror
Des Plaines, Illinois has close to 59,000 residents and is in Cook County. Glenview, the home to GlassWorks, is conveniently located only eight miles northeast of Des Plaines. Whenever Des Plaines residents are seeking the finest antique wall mirrors or decorative mirrors, they come directly to GlassWorks. We are renowned for having the most attractive antique wall mirrors that bring a superior level of elegance to any Des Plaines home. Further, GlassWorks will design an antique mirror precisely to our Des Plaines customers' specifications and preferences. Also, Des Plaines customers understand that in addition to creating the illusion of more space to their rooms, our lovely decorative mirrors will also illuminate their rooms considerably by reflecting light.
Des Plaines Antique Mirror Glass
GlassWorks also offers the most competitively priced mirrored glass products in the region, in addition to offering the most affordable prices. This is the reason we have so many requests for our services in glass fabrication. No matter if it is an antique mirror or decorative mirrors that our clients want, we are able to handle their requests promptly and efficiently! Customers are well aware they can count on the GlassWorks' professionals to treat their homes with the same care and respect that they treat their own homes. They can also rely on us to make sure their mirrors are installed exactly as they wish! For the finest and most affordable mirrored glass products, call GlassWorks, today, at: (847) 729-5580 and ask us about our FREE ESTIMATE!
Des Plaines Antique Mirror | Des Plaines Antique Wall Mirror | Des Plaines Antique Mirror Glass | Des Plaines Decorative Mirrors | Des Plaines Mirrored Glass