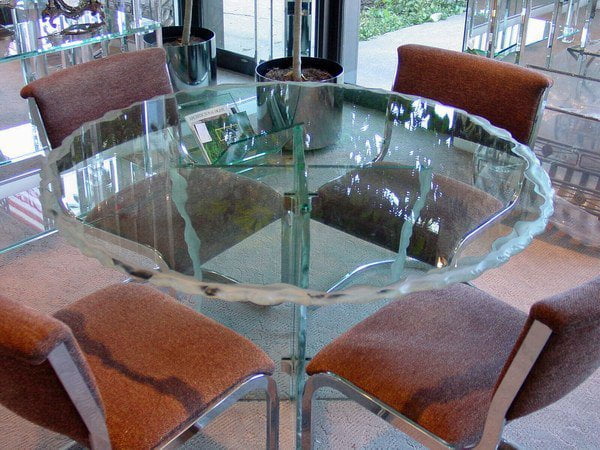 All Glass Tables | Heavy Glass Tabletops | Protective Glass Tabletops
GlassWorks has been identified as the innovator in exclusively designed and top-quality commercial and residential glass items throughout the city of Chicago and the neighboring areas for well over 35 years now.  Actually, GlassWorks is mentioned for being the quickest developing glass company in the Midwest many thanks, in a large aspect, to our extremely devoted team of project managers, sales staff, fabricators and installers – in addition to our amazing and devoted customers!  As your one-stop shop for glass items, GlassWorks is the desired destination of people who are prepared when they are searching for an all glass table, glass table base, or glass tabletop.  No matter of the kind of all glass tables, glass table base, or glass tabletop you consider, GlassWorks has the history and expertise for making your desired glass table base or glass tabletop become a reality!   GlassWorks has been fulfilling customers ever since 1997 with our top rated expert services.  We are particularly experienced at personalizing glass table projects just like: glass dining tables, glass coffee tables, and glass end tables to the requirements of our more than 4,000 clients each and every year.  Recently, many Winnetka customers have desired GlassWorks' skills in assisting them to figure out about the most appropriate glass tabletop for their unique dining room. 
Winnetka Glass Table Top
Winnetka, Illinois is a gorgeous, affluent North Shore village located about 21 miles northwest of the Chicago Loop.  In 2011, CNN Money showcased Winnetka on the America's list of 25 top earning villages.  The location is one of the most exceptional and prosperous suburban areas in the country.  As outlined by Business Week, it is amongst the top 15 wealthiest zip codes in North America.  It is not unexpected that a lot of Winnetka citizens and business owners seek the expert advice and products of GlassWorks when they are looking for the highest-quality glass products in the area.  No matter what the sizing or shaping of the glass tabletop, our Winnetka clients would like for their house or office, the experts at GlassWorks can design and create it for them.  GlassWorks' all glass tables provide a level of beauty to any Winnetka household's living area.  They are extremely unique and truly one-of-a-kind.  Also, Winnetka citizens especially like that GlassWorks' experts can customize a glass tabletop to help secure a family treasure table without covering its elegance.  Moreover, Winnetka home-owners really enjoy that GlassWorks can set up a safety glass tabletop that will not just secure their table from dings and scrapes, but it will also protect the table from the powerful rays of the sun and staining from spilt liquids.
Winnetka Custom Glass Table Tops
Not just is the GlassWorks' business fascinated in protecting your tables with safety glass tabletops, but we are also serious about preserving your bank account, too!  Our glass table items and workmanship are not only the finest in the Midwest, but they are also very cost-effective.  We are aware that one more important aspect in selecting GlassWorks over its competitors is the price.  That is why GlassWorks efforts to offer the most affordable glass table items to our clients.  No matter if you want a unique group of glass end tables to go along with your brand-new couch or you want us design and style an exquisite glass dining table for your sun room area, you can depend upon us to care for your request instantly and deliver it quickly soon enough for your forthcoming anniversary celebration.  Just call us right now at: 847.729.5580, and consult with one of the GlassWorks' associates for your no obligation, FREE ESTIMATE.  They'll also let you know about our 12-month warranty on all our glass products and assembly, in addition to any manufacturer warranty information. 
Winnetka Glass Tables | Winnetka Glass Table Top | Winnetka Glass Dining Table