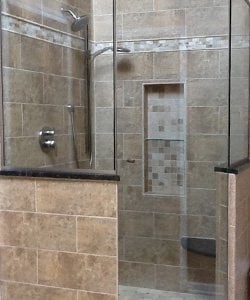 Glass Steam Shower Enclosures | Frameless Glass Shower Doors
For over 37 years and still going strong GlassWorks has been commonly known as the leading glass company in the Greater Chicago Metropolitan Area.  Our installation experts of architectural glass are very talented and love what they do.  To that effect, we are pleased that our dazzling glass shower enclosures will be what you have been searching for to spruce up your bathroom.  GlassWorks is known as the one-stop-shop for customers who are searching for the finest in shower enclosures and glass shower stalls.  The specialist at GlassWorks have the ability and information to take care of all of your glass shower enclosure requests and give you the kind of glass shower enclosure you have been waiting!  Since 1997, we have been allocating award-winning services to the residents of Wilmette with our broad mixture of glass shower enclosures and glass shower stalls that will suit many likings.  GlassWorks is known for serving on average of 4,000 customers each year and we are very proud of that.  
Wilmette Glass Shower Enclosure
Wilmette is one of North Shore villages that is located about 14 miles north of Chicago's downtown district in New Trier Township.  Whenever the 27,000 residents of Wilmette need a glass shower enclosure or glass shower stall, GlassWorks is there to lend them a hand. Additionally, Glenview is the home of GlassWorks which is located nearby to Wilmette only being only 8 miles away!  And more, our pleasant and attractive shower enclosures will give your bathroom a level of flair that you've been dreaming about.  If you would like, you could also adjust your glass shower stalls and shower enclosures exactly how you want it to be.  The residents of Wilmette enjoy creating their very own bathroom shower enclosures.  In addition, our glass shower enclosures and glass shower stalls add superiority to your bathrooms and our shower glass is said to be "safety glass" that ensures you are protected within your reinforced shower glass structure.    
Wilmette Shower Door Enclosure
Also, due to the following characteristics, GlassWorks' frameless glass shower doors are greatly well-liked, see below:
Clean, streamline appearance;
Classical spa atmosphere; and
Ease of maintenance and cleaning.
GlassWorks will deliver to our customers the most reasonable and practical prices.  From frameless glass shower doors to neo-angle glass shower doors, glass steam shower enclosures, framed glass shower doors and custom glass shower doors, come what may our glass shower stalls and shower enclosures at GlassWorks cannot be compared too!  Equally, our GlassWorks' installation technicians treat our customers' homes the way they would want their homes to be treated, with respect.  Give us a ring today to schedule your appointment at: (847)729-5580 and to receive a free estimate! Plus, complete our online form for a 10% reduction! 
Wilmette Shower Enclosures | Wilmette Glass Shower Enclosure | Wilmette Shower Door Enclosure | Wilmette Glass Shower Door Enclosure | Wilmette Glass Shower Stall