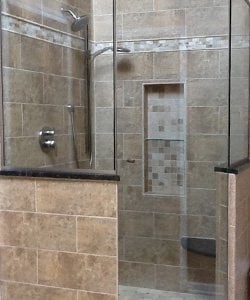 Glass Steam Shower Enclosures | Frameless Glass Shower Doors
GlassWorks is recognized as the number one destination for customers who are searching for the finest in shower enclosures and glass shower stalls.  Ever since 1997 and still going on today, GlassWorks has been the main glass company and installation experts of architectural glass serving the residents of the Greater Chicago Metropolitan Area.  We have many different shower enclosures that will satisfy our clients and we are very proud of that.  GlassWorks has the aptitude and knowledge to offer you the kind of glass shower enclosure that you have been in search of and we can take care of all of your glass shower enclosure necessities.  For over 37 years we have been dispensing our award-winning services to the residents of Lake Forest with our all-inclusive selection of glass shower enclosures and glass shower stalls.  Here at GlassWorks we serve an average of 4,000 customers every year and the number keeps growing!  
Lake Forest Glass Shower Enclosure
GlassWorks can adjust your glass shower stalls and shower enclosures to make it precisely how you want it and the populace of Lake Forest enjoy creating their very own shower enclosures.  Additionally, our glass shower enclosures and glass shower stalls gives your bathroom a sense of elegance that you can appreciate.  Plus, our glass shower stalls and our glass shower door enclosures are often referred to as "safety glass" that ensures you are protected within your shower glass structure.  Lake Forest is a city located in Lake County Illinois. The city is south of Waukegan along the shore of Lake Michigan, and is a part of the Chicago Metropolitan Area.  So when the residents of Lake Forest are in need of a glass shower enclosure or glass shower stall, they call the experts at GlassWorks!  GlassWorks is located only 17 minutes from Lake Forest, which is a very close drive for the greatest glass enclosures around!  Also, our polished and stylish shower enclosures will give your bathroom the feel you have been hoping for.  
Lake Forest Shower Door Enclosure
GlassWorks' frameless glass shower doors and our shower enclosures are much appreciated, and these are a few reasons why:
Clean, streamline appearance;
Classical spa atmosphere; and
Ease of maintenance and cleaning.
From frameless glass shower doors to neo-angle glass shower doors, glass steam shower enclosures, framed glass shower doors and custom glass shower doors, whatever glass shower stall or shower enclosure you need GlassWorks has it for you!  In addition, GlassWorks provides our customers with low-cost and practical values.  Our GlassWorks' installation technicians are very professional and respect customers wishes at all times.  Give us a call to schedule your appointment at: (847)729-5580 and you'll receive a free estimate!  Plus, complete our online form for a 10% reduction! 
Lake Forest Shower Enclosures | Lake Forest Glass Shower Enclosure | Lake Forest Shower Door Enclosure | Lake Forest Glass Shower Door Enclosure | Lake Forest Glass Shower Stall