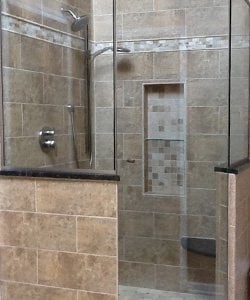 Glass Steam Shower Enclosures | Frameless Glass Shower Doors
GlassWorks has been serving the Chicagoland area for more than 37 years and they are very proud of our services.  With our superb glass shower enclosures and shower door enclosures they have everything they will need to update your bathroom.  GlassWorks is recognized for supplying only the top in shower enclosures and glass shower stalls and at a low price.  Also, GlassWorks is recognized for having the ability and understanding of this business and we know how to get any glass shower enclosures and glass shower door enclosure completed. The GlassWorks installation experts of architectural glass are very good at what they do and enjoy it and you can tell from their outstanding work!  By the same token, we have been supplying our exclusive award-winning services to the residents of Highland Park and they have been overly satisfied due to our extensive selection of glass shower enclosures and glass shower stalls.  Due to our amazing crew and quality products we are glad to serve on average 4,000 customers every year! 
Highland Park Glass Shower Enclosure
Whenever the residents of Highland Park are in the market for glass shower enclosures or glass shower stalls, they know who to connect with which is GlassWorks because they trust in our services.  Our most well-designed shower enclosures will add a hint of beauty and pleasure to your bathroom and that's why the residents of Highland Park choose us.  The Highland Park residents are very mindful of what the skilled professionals at GlassWorks can do, like alter any glass shower stall or shower enclosure giving your bathrooms a much needed upgrade!  Furthermore, our shower glass is often specified as being "safety glass" so you can be safe within your secure shower glass structure.  By the way, Highland Park, Illinois is located in Cook County and is a suburban municipality.  Also, your new glass shower enclosure or glass shower stall will turn your bathroom into a place where you can retreat and unwind.
Highland Park Shower Door Enclosure
GlassWorks' places a lot of time on our frameless glass shower doors because that seems to be the most popular these days and this is why:
Clean, streamline appearance;
Classical spa atmosphere; and
Ease of maintenance and cleaning.
Our Highland Park customers are at ease when they speak to our experts because they have many years of experience and know what they are talking about here at GlassWorks.  GlassWorks has all that you would want to remodel your bathroom, we have frameless glass shower doors to neo-angle glass shower doors, glass steam shower enclosures, framed glass shower doors and custom glass shower doors!  Any sort of glass shower stalls and shower enclosures you have been in search of is right here at GlassWorks and our installation technicians are very gifted and want to put their talent to good use!  So go ahead and pick up your phone and dial: (847) 729-5580 to receive a free estimate or for an appointment, fill-out our online form for a 10% reduction!  GlassWorks is just one phone call away, so give us a ring right now!
Highland Park Shower Enclosures | Highland Park Glass Shower Enclosure | Highland Park Shower Door Enclosure | Highland Park Glass Shower Door Enclosure | Highland Park Glass Shower Stall