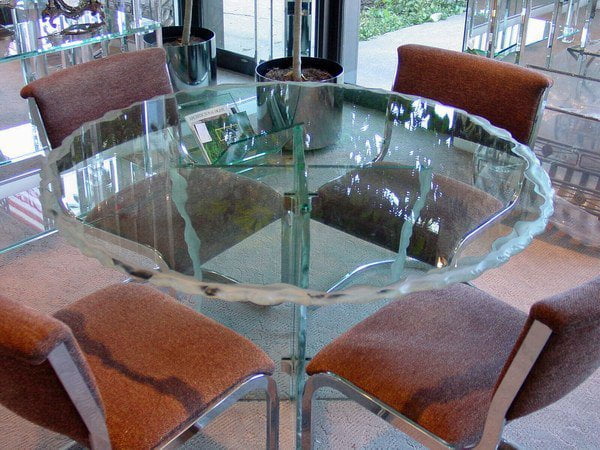 All Glass Tables | Heavy Glass Tabletops | Protective Glass Tabletops
For more than 35 years, GlassWorks has been recognized throughout the Chicagoland region as the leader in uniquely crafted and high-quality residential and commercial glass products.  In fact, GlassWorks is cited as being the fastest growing glass company in the Midwest thanks, in a large part, to our extraordinarily dedicated team of sales personnel, project managers, fabricators and installers – not to mention our remarkable and loyal customers!  As your one-stop-shop for glass products, GlassWorks is the destination of people in-the-know when they are looking for an all glass table, glass tabletop or glass table base.  Regardless of the kind of all glass tables, glass tabletop or glass table base you have in mind, GlassWorks has the background and experience to make your dream glass tabletop or glass table base come true!  GlassWorks has been satisfying customers since 1997 with our award-winning services.  We are especially skilled at customizing glass table projects such as: glass dining tables, glass end tables and glass coffee tables to the specifications of our over 4,000 clients annually.  Lately, numerous Glencoe customers have sought GlassWorks' expertise in helping them determine the most suitable glass tabletop for their dining room.  
Glencoe Glass Table Top
Glencoe, Illinois is lovely, affluent village located about 20 miles north of the Chicago Loop. Listed by Money.com as the "6th Highest Top-Earning Town in the United States," Glencoe is well-known for its high standard-of-living.  It is not surprising that so many Glencoe residents and commercial business owners seek the professional advice and products of GlassWorks when they are in the market for the finest glass products in the region.  Whatever the size or shape of the glass tabletop our Glencoe customers want for their home or office, the professionals at GlassWorks can create it for them.  GlassWorks' all glass tables bring a level of elegance to any Glencoe family's living room.  They are decidedly unique and one-of-a-kind.  Also, Glencoe residents particularly like that GlassWorks' professionals can tailor a glass tabletop to protect a family heirloom table without concealing its beauty.  In addition, Glencoe homeowners really appreciate that GlassWorks can install a protective glass tabletop that will not only protect their table from nicks and scratches, but it will also shield the table from the sun's powerful rays and stains from spilled liquids.   
Glencoe Custom Glass Table Tops
Not only is the GlassWorks' company interested in safeguarding your tables with protective glass tabletops, but we are also interested in protecting your bank account!  Our glass table products and craftsmanship are not only the best in the Midwest, but they are also very affordable.  We are well-aware that another significant factor in choosing GlassWorks over its rivals is the cost.  That is why GlassWorks endeavors to provide the most cost-effective glass table products to our customers.  Whether you want a special set of glass end tables to go with your new sofa or you want us design an elegant glass dining table for your sun room, you can rely upon us to take care of your request immediately and deliver it promptly in time for your upcoming anniversary party.  Simply call us today at: 847.729.5580 today and ask one of the GlassWorks' representatives for your FREE ESTIMATE.  They'll also tell you about our one-year warranty on all our glass products and installation, along with any manufacturer warranties.
Glencoe Glass Tables | Glencoe Glass Table Top | Glencoe Glass Dining Table