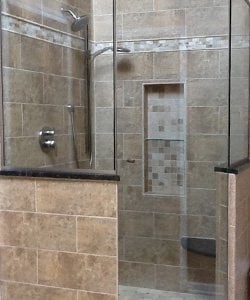 Glass Steam Shower Enclosures | Frameless Glass Shower Doors
Since 1997, GlassWorks has been commonly acknowledged as the top glass company and installation experts of architectural glass throughout the Greater Chicago Metropolitan Area.  Additionally, we are pleased to take enormous pride in our superb glass shower enclosures.  It is not very much of a no surprise that GlassWorks is seen as the conclusive destination for customers who are looking for the absolute best shower enclosures and glass shower stalls.  It does not matter the design of glass shower enclosure you require, GlassWorks has the competence and knowledge to look after all of your glass shower enclosure wants!  For just over 37 years, we have been delivering our extraordinary, best-rated services to Carpentersville citizens with our broad choice of glass shower enclosures and glass shower stalls.  Really, we are recognized as helping roughly 4,000 customers yearly!  
Carpentersville Glass Shower Enclosure
Carpentersville, Illinois has in excess of 37,700 locals living there and is found in Kane County.  Glenview, where you will come across GlassWorks, is ideally situated about 27.6 miles southeast of Carpentersville.  When Carpentersville residents are shopping around for glass shower enclosures or glass shower stalls, they ask for the direction of the industry experts at GlassWorks.  Our streamlined and sophisticated shower enclosures will provide a degree of elegance and excitement to Carpentersville baths.  As a result, citizens of Carpentersville are well aware that GlassWorks is in the position to individualize their glass shower stalls and shower enclosures to their particular specifications.  Additionally, even though our glass shower enclosures and glass shower stalls provide a look and feel of intricacy to bathrooms, but our shower glass is often referred to as "safety glass" that make certain that bathers are shielded in the sturdy shower glass structure.    
Carpentersville Shower Door Enclosure
GlassWorks' frameless glass shower doors are their most favored shower doors due to the fact of the following capabilities: 
Sleek, clean look and feel;
Common spa surroundings; and
Simplicity of maintenance and cleaning.
In addition, our valued customers are often pleased to discover that GlassWorks gives them with competitive and economical prices.  It does not matter what style of glass shower stalls and shower enclosures you require, from frameless glass shower doors to neo-angle glass shower doors, glass steam shower enclosures, framed glass shower doors and custom glass shower doors, you can count on GlassWorks to take care of your needs rapidly and properly.   On top of that, our GlassWorks' installation technicians always take care of customers' homes like they do their very own!  To get scheduled for an appointment, complete and submit our online form for a 10% price savings, or dial GlassWorks right now at: (847) 729-5580 to receive your absolutely FREE ESTIMATE!
Carpentersville Shower Enclosures | Carpentersville Glass Shower Enclosures | Carpentersville Shower Door Enclosures | Carpentersville Glass Shower Door Enclosure | Carpentersville Glass Shower Stall