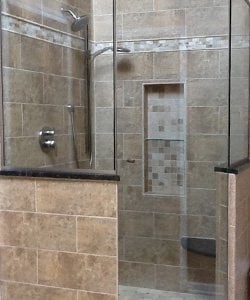 Glass Steam Shower Enclosures | Frameless Glass Shower Doors
GlassWorks greatly regarded as the leading glass company and installation authorities of architectural glass all around the Greater Chicago Metropolitan Area for just over 37 years.  On top of it, we are excited to have tremendous satisfaction in our unique glass shower enclosures.  It is not very much of a no wonder that GlassWorks is recognized as the conclusive destination for customers who are asking for the best shower enclosures and glass shower stalls.  No matter the sort of glass shower enclosure you desire, GlassWorks has the capability and knowledge to look after every one of your glass shower enclosure demands!  Since 1997, we have been providing our exceptional, best-rated services to citizens of Bartlett with our wide collection of glass shower enclosures and glass shower stalls.  Essentially, we are acknowledged as offering approximately 4,000 customers each year!  
Bartlett Glass Shower Enclosure
An upper-middle class village, Bartlett, Illinois has over 41,000 residents residing there and is found in Cook County, DuPage County and a small portion in Kane County.  Glenview, the home of GlassWorks, is ideally located about 34 miles northeast of Bartlett.  Every time Bartlett residents are searching around for glass shower enclosures or glass shower stalls, they seek the assistance of the industry pros at GlassWorks.  Our luxurious and sophisticated shower enclosures will give an amount of splendor and happiness to Bartlett baths.  Thus, citizens of Bartlett are well aware that GlassWorks is able to modify their glass shower stalls and shower enclosures to their particular wants.  Additionally, not only can our glass shower enclosures and glass shower stalls provide an appearance of intricacy to bathrooms, but our shower glass is often called "safety glass" that guarantee that bathers are shielded within  the sturdy shower glass construction.    
Bartlett Shower Door Enclosure
GlassWorks' frameless glass shower doors are their most favored shower doors due to the fact of the following features: 
Streamlined, clean overall look;
Traditional spa surroundings; and
Ease of maintenance and cleaning.
Furthermore, customers are always happy to learn that GlassWorks gives them with competitive and economical prices.  No matter what style of glass shower stalls and shower enclosures you want, from frameless glass shower doors to neo-angle glass shower doors, glass steam shower enclosures, framed glass shower doors and custom glass shower doors, you can depend on GlassWorks to take care of your requests speedily and properly.   Additionally, our GlassWorks' installation technicians always handle customers' homes like they actually do their own homes!  To get scheduled for an appointment, submit our online form to get a 10% price savings, or make contact with GlassWorks at: (847) 729-5580 to receive an absolutely FREE ESTIMATE!
Bartlett Shower Enclosures | Bartlett Glass Shower Enclosures | Bartlett Shower Door Enclosures | Bartlett Glass Shower Door Enclosure | Bartlett Glass Shower Stall